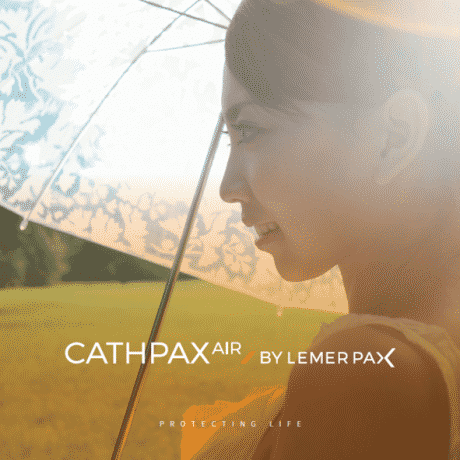 Cathpax® AIR, the optimum protection in movement
This innovating solution for optimum radiation protection long-awaited by healthcare professionals, will be unveiled, a worldwide first, at the EuroPCR and presented in the environment of a virtual catheterisation room during the next cardiology congress in Paris from 16 to 19 May.
There was one before, there will be one after. The history of the Cathpax® AIR mobile radiation protection cabin is rather like moving from darkness into light for interventional radiology, cardiology and neurology users. Always heavily weighed down by a lead apron causing numerous musculoskeletal disorders, radiation protection glasses, thyroid shield, surrounded by protective screens, hindered in their movements and despite the precautions still exposed to X-rays, users have developed in recent years increasing numbers of pathologies, in particular of the brain and the thyroid gland. Double punishment, therefore, for these specialists of life who find themselves condemned to physiotherapy treatment and under the constant threat of radiation induced tumours.
Aware of the situation, Lemer Pax, whose motto is "Protecting Life", has developed in partnership with doctors, a new radiation protection cabin offering complete freedom of movement and optimum radiation protection. This radiation protection cabin was produced with the help of two famous cardiologists, professors David Keane from St Vincent hospital in Dublin, Ireland and Patrice Guérin from the Nantes CHU (teaching hospital) in France. The ergonomics were therefore perfectly designed to preserve full amplitude of movement and the comfort required for surgery while guaranteeing the physician a currently unequalled level of radiation protection. It will be one of the innovations of the EuroPCR which this year celebrates the 40th anniversary of angioplasty and will benefit, on Lemer Pax stand M14, from an extensive, complete presentation.