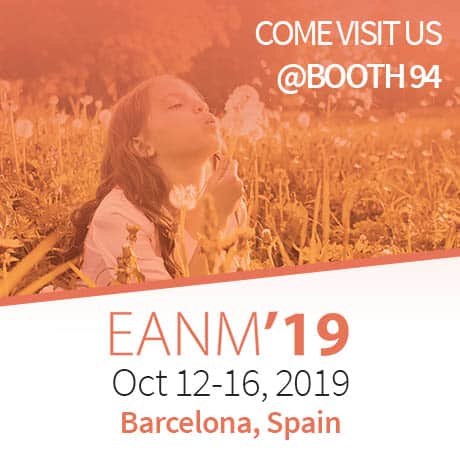 EANM 2019 – Booth 94: discover the Lemer Pax and Medisystem Therapy and Diagnostic offer at Barcelona
Now a worldwide reference in its field, the European Association of Nuclear Medicine, (EANM) is organising its 32nd annual congress at Barcelona, Spain, to be held from 12 to 16 October 2019. Once again, Lemer Pax and Medisystem are participating together under the banner of the Isotop4Life centre of excellence.
This year, the two French radiation protection leaders are presenting two innovating solutions to meet the requirements of their customers: high-energy radiopharmaceutical injection and preparation unit Posijet® in its "Theranostic" configuration and the modernised and intuitive Easypharma Compact, a low- and medium-energy manual preparation hot cell!
Posijet® Therapy version: a new 2-in-1 preparation and injection unit
Amongst its extensive range of radiation protection solutions for nuclear medicine, the Posijet® independent fractionation and injection unit for high energy radiopharmaceuticals will be on show.
This year for the first time, the Posijet® will propose 2 separate applications in the same independent unit: "conventional" operating mode for a diagnostic activity as well as a new mode dedicated to therapy and capable of handling new corresponding radiopharmaceuticals.
In the second mode, injection configuration and monitoring of the administration time and activity comply with the Lutetium-177 (177Lu) labelled radiopharmaceutical administration protocols. A new administration solution guaranteeing both correct treatment procedure and operator safety.
Easypharma Compact 2.0: modernised and intuitive
The Posijet® independent fractionation and injection unit for high energy radiopharmaceuticals will be exhibited alongside a new version of the Lemer Pax Easypharma Compact Class A hot cell.
The Easypharma Compact, a manual preparation hot cell for low-to-medium energy radiopharmaceuticals, features ergonomics adapted to all nuclear medicine operators.
For this 2019 edition of the EANM, the hot cell will still be fitted with its "Vision+" option providing operators with optimal visibility of the workspace.
The hot cell has been modernised with, for example, a new centralised touch control interface allowing connectivity, equipment supervision and remote maintenance. This year, the hot cell will also unveil new options and innovating features such as integration of a transparent screen displaying measurement data, automatic voice-controlled isotope selection, etc.
Visit us on booth 94! Our teams will be pleased to welcome you and present our radiation protection solutions adapted to your requirements.