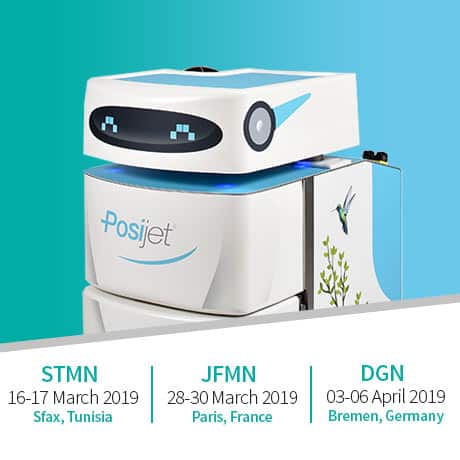 STMN, JFMN & DGN: the Posijet® is setting out on its spring tour
With spring coming closer, the Posijet® is getting ready to travel! The independent fractionation and injection unit for high energy radiopharmaceuticals, designed and manufactured by Lemer Pax, will be under the spotlight in the next editions of the STMN, JFMN and DGN congresses next March and April. 3 not-to-be-missed events!
The Posijet® in "Teaching" mode at the STMN
First destination for the Posijet®: Tunisia! On 16 and 17 March, the STMN (Tunisian Society of Nuclear Medicine) is organising its 9th national Nuclear Medicine Congress at Sfax. On this occasion, our local distributor HTDS will showcase the ingenious fluid technology of the Posijet® using our fluid technology demonstration kit to explain and understand how the machine functions.
The Posijet® in "Paediatrics" mode at the JFMN & and DGN congresses
Second destination: Paris, or more precisely Montrouge, in the outskirts of the capital. Once again, Lemer Pax and Medisystem will join forces at the JFMN (French-speaking nuclear medicine days). During this edition held from 28 to 30 March at the Beffroi de Montrouge, the two French leaders in radiation protection will exhibit their range of equipment dedicated to the services of Nuclear Medicine, including the paediatric version of the Posijet®!
As for the last edition of the EANM (European Association of Nuclear Medicine) in October 2018, the Posijet® will be in the spotlight with its brand new look: a reassuring design to put children at ease, perfect for paediatric wards! Less imposing with its happy eyes, new sounds and funny voice, this new robot becomes the ideal partner when making injections in young patients. The idea is to make radiopharmaceutical injections a more playful and less stressful experience for children and medical professionals alike.
Less than one week after the JFMN days, the Posijet® will take to the road again for its last destination, finishing its tour in Germany at the 57th annual congress of the German Society of Nuclear Medicine (DGN) which will be held from 3 to 6 April at Bremen in Germany. Still in its paediatrics version, the Posijet® will be exhibited on the booth of our German distributor Savvy Diagnostics. This is the first time, in fact, that the Posijet will be present at the DGN German congress! However, the Posijet® is no stranger in Germany, since we took it along with us to the last edition of the EANM… at Dusseldorf!
At Bremen, the Posijet® will be exhibited alongside the Easypharma Compact Class A hot cell. This manual preparation hot cell for low-to-medium energy radiopharmaceuticals will also be fitted with its "Vision+" option providing operators with optimal visibility of the workspace.
Come and meet the Lemer Pax, Medisystem, HTDS and Savvy Diagnostics teams at:
STMN – 16-17 March – Sfax (Tunisia)
JFMN – 28-30 March – Paris (France)
DGN – 3-6 April – Bremen (Germany)