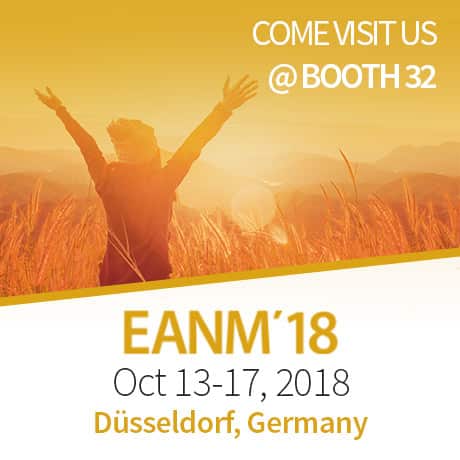 EANM 2018 – Booth 32: Lemer Pax and Medisystem team up in Düsseldorf
The European Association of Nuclear Medicine (EANM), a leading global force in our field, will be hosting its 31st annual congress in Düsseldorf, Germany from 13th-17th October. A perfect opportunity for Lemer Pax and Medisystem to once again join forces under the aegis of our Isotop4Life centre of excellence.
This year, the two French leaders in radiation protection will be showing off two innovative solutions designed to satisfy the demands of today's medical professionals: the Easypharma Compact hot cell, incorporating Vision+ technology for optimal visibility, and the Posijet® fractionation and injection unit for high-energy radiopharmaceuticals, now available in its paediatric outfit.
Easypharma Compact: ergonomics and optimal visibility
Amidst our vast range of solutions for radiation protection in nuclear medicine, Lemer Pax's "Easypharma Compact Class A" hot cell will be taking centre stage in Düsseldorf.
This manual preparation hot cell for low-to-medium energy radiopharmaceuticals is ergonomically designed to make life easier for all professionals working in the field of nuclear medicine. The 7° incline of the façade, along with the free space underneath the work surface, are designed to make operators more comfortable, whatever their size and preferred working position (standing and/or semi-seated).
For the 2018 edition of the EANM congress, the Easypharma Compact hot cell will be fitted with the new Vision+ option, providing operators with optimal visibility of the workspace at all times. The lead glass front door allows for an unencumbered view of the whole work surface, while also maintaining an optimal level of radiation protection for users. With this innovative new option, Easypharma Compact offers the perfect combination of precision and ease of use.
Posijet® Pediatry: cutting-edge medical assistance for injecting young patients
The Easypharma Compact chamber will be accompanied by Posijet®, our autonomous fractionation and injection unit for high energy radiopharmaceuticals.
This year Posijet® has had a makeover, and will be revealing its brand new look in Düsseldorf: a fun, reassuring design to put children at ease, perfect for paediatric wards!
With its happy eyes, new sounds and funny voice, this new robot is less imposing and more of a character, with an important role to play in caring for young patients. The idea is to make radiopharmaceutical injections a more playful and less stressful experience for children and medical professionals alike.
Drop in and see us at Booth 32 in Hall 4! Our team will be on hand to introduce you to our latest radiation protection solutions, tailored to your exact requirements!
Discover the best that radiation protection has to offer! Join us in "Protecting Life"