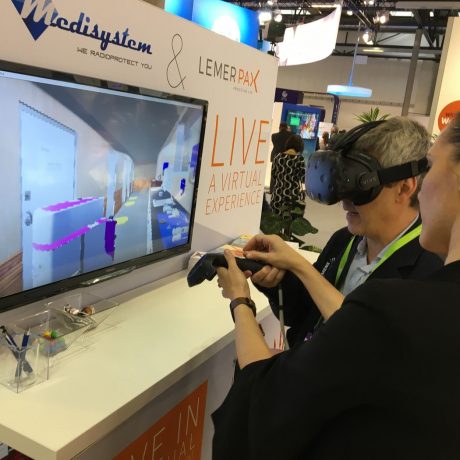 Virtual reality: an innovative, eco-responsible solution
At recent trade fairs, Lemer Pax has pioneered a new way of presenting our huge range of products in the fields of nuclear medicine and interventional cardiology, in an environment which is fully immersive and incredibly life-like. How? Thanks to virtual reality. A bold decision resolutely focused on delivering an optimal user experience while also reducing our carbon footprint.
End users can see for themselves
Lemer Pax has been using virtual reality technology to present our latest innovations at trade fairs, giving users the opportunity to interact with the products and visualise how they would fit into their working environment.
In May of this year, visitors to the Lemer Pax stand at EuroPCR in Paris were impressed by the realism of the virtual catheter room, offering a detailed demonstration of the advantages of the Cathpax®AIR range. This new radiation protection cabin provides interventional cardiologists, radiologists and neurologists with optimum protection against the X-rays emitted by the C-arm, without infringing upon their working conditions or freedom of movement.
Bettina Heraclide, head of interventional cardiology, radiology and neurology products at Lemer Pax, noticed the difference: "Doctors have been really impressed with the system. It puts them in the room, and allows them to work out how best to position the Cathpax®AIR. It allows them to get to grips with this new form of radiation protection very quickly. The response has been really positive, and created a good buzz around our stand at the trade fair. We'll definitely do it again."
At Lemer Pax, design is all about meeting users' needs.
Different field, same principle. The company has also produced virtual models of radiation protection equipments for nuclear medicine, recreating a whole department including preparation laboratories and patient injection units. This is an effective way of presenting our products at trade fairs, but also allows us to be even more efficient in the way we design our products.
Nathalie Gaillardet, application engineer at Lemer Pax, is convinced: "This is a great tool for showing clients that we have heard and understood their demands. Operators can check out the size and configuration of each injector or booth, using the animated features to explore the products' functions and simulate the presence of generators within hot cells. They can also give us feedback on points they'd like to see improved, which is precious for us. This is a useful tool, because not everything can be presented at a trade fair."
A first step towards reducing the company's carbon footprint.
Charlotte Bébin, Director of Marketing and Communication at Lemer Pax, is enthusiastic about this innovation, emphasising the importance of making the user experience a top priority. She also confirms the growing importance of CSR commitments, including the challenge of substantially reducing Lemer Pax's carbon footprint. "As well as being fun and interactive, virtual reality is a first step towards reducing our carbon footprint. Even the biggest journeys start with a single step. Our core activity – optimising radiation protection – requires equipment which is heavy and expensive to transport, which especially comes at a cost to the environment. Virtual reality is an ideal solution for presenting our products in situ and allowing end users to appreciate their ergonomic quality and simplicity of use – top priorities of our design office."