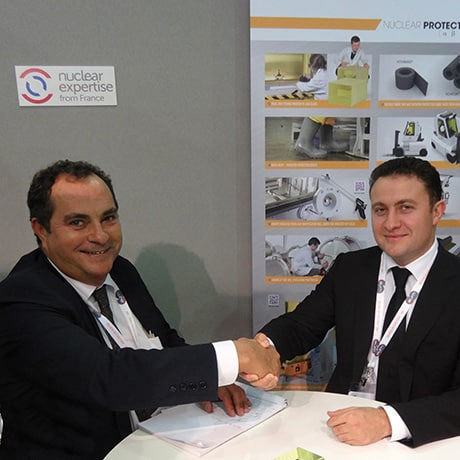 The first WNE trade show, a huge success for the whole nuclear sector and Lemer Pax
The World Nuclear Exhibition, first international nuclear trade show, was held from 13 to 16 October was a huge success for the whole nuclear sector.
 This first edition immediately stood out as the largest worldwide show on the subject. 500 exhibitors and over 7 000 visitors from 70 different countries converged on Le Bourget to appreciate the quality and diversity of French products.
The French nuclear cluster (PNB) which shared its pavilion with numerous actors from the sector including Lemer Pax, played a significant role by facilitating meetings and cooperation between actors in the sector. During the opening day, the former president of France, Valéry Giscard d'Estaing  in the field, brilliantly retraced the innovative strategy of the French civilian nuclear sector and spoke of his confidence in the new generation of engineers to meet the challenges of nuclear in the future. EDF, the leading world operator with 70 reactors, through its president, mentioned its intention to accelerate international cooperation, particularly with major countries such as China and Russia, so that the French nuclear sector remains a world reference in the years to come.
During this first edition of the WNE, Lemer Pax signedmajor contracts with Asia, Eastern European countries and South America. Windows for civilian nuclear applications and new ecological, lead-free radioprotection equipment part of the Novashield® range, and numerous radioprotection products, caught the interest of foreign buyers.
Lemer Pax, a company defined as strategic by the French government and identified among the 1000 innovative French SMEs by the French ministry of Foreign Trade, made the most of the opportunity of the first edition of the WNE, to present its advanced technology and expertise, recognized by major clients and to convince foreign customers of the knowhow and excellence of the French nuclear sector.