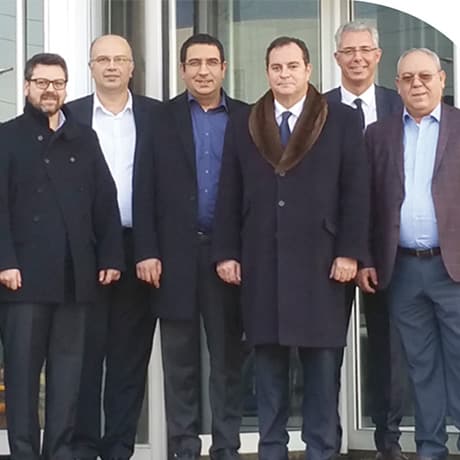 Moltek, Lemer Pax's partner for the middle East and central Asia
Thanks to the excellent and long-standing relations between Pierre-Marie Lemer and Can Zafer Aksoy, Lemer Pax has signed a three-year distribution agreement with Moltek, an Istanbul company and leader in the fi eld of nuclear medicine. This agreement covers the distribution of radiation protection equipment for radiopharmacies and Nuclear Medicine departments in Turkey and countries bordering the Mediterranean and the Caspian Sea.
Turkey has 300 nuclear medicine centres and 150 PET Scanners, more than the French market. In this context of strong expansion, Pierre-Marie Lemer met the management team of Moltek at the beginning of the year to fi nalize this new partnership.
Under the agreement Lemer Pax will supply radiation protection hot cells, production and quality control glove boxes, dose calibrators, Posijet® systems and syringe shields. As part of our international development, the Lemer Pax catalogue is arriving in Iraq, Syria, Armenia, Azerbaijan, Georgia, Kyrgyzstan, Moldova, Tajikistan and Turkmenistan, refl ecting our determination to develop our export potential.