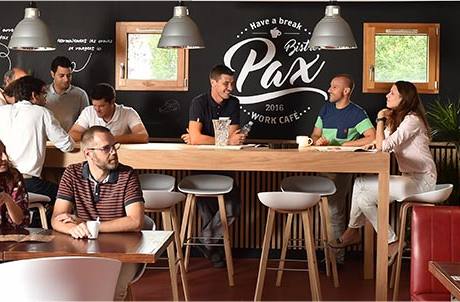 Lemer Pax gets a makeover
Lemer Pax's new visual identity (developed in partnership with Parisian PR agency Evolve) and the light, spacious elegance of our new premises at La Chapelle (designed by architectural firm Topos) reflect the fundamental identity of our company: collaborative spirit, open management and environmental awareness.

This new look symbolises our commitment to constantly surpassing ourselves and reaching out ever further to capture new international markets. It neatly encapsulates the elegant design and superior ease of use which characterise our products, the fruit of 45 years of hands-on experience punctuated by countless pioneering innovations. Our brand is now firmly established as a benchmark for innovation in the field of radioprotection. These new colours are emblematic of the positive ecosystem in which Lemer Pax operates: true to our progressive values and our home region, but open to the world and committed to protecting lives the world over: the reason we do what we do! Speaking of reason… it is our great pleasure to wish a happy 7th birthday to our PR partners Evolve, the proverbial 'age of reason'.