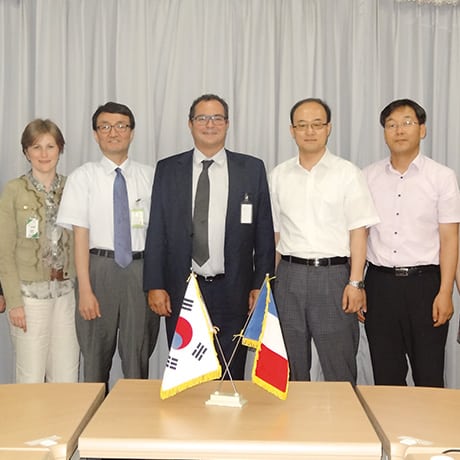 Export: a not-to-be- missed opportunity for the coming months
The Management of Lemer Pax have already taken the initiative. In January 2013, the company was awarded the INPI Innovation Trophy. In February, Pierre-Marie Lemer (Chairman and CEO) was invited to join the official delegation accompanying President François Hollande during his state visit to India. This presidential trip, surrounded by major CAC-40 companies, allowed Lemer Pax to boost its reputation and strengthen its position within this strategic area, particularly via the establishment of a distribution agreement in the fi eld of nuclear medicine.
On 22nd May, Pierre Moscovici, Minister for Economic Affairs and Finance, and Nicole Bricq, Minister for Foreign Trade, presented a new fi nancing offer to facilitate the export and internationalization strategies of companies, key factors in their growth. Indeed, SMEs and mid-caps are responsible for 57% of French exports. The 'Bpifrance Export' label, the result of a strong partnership between Bpifrance, UBIFRANCE and COFACE, offers personalised and long-term support for companies wishing to expand internationally.
Within this favourable context for innovative SMEs, Pierre-Marie Lemer and Valérie Chevreul (Managing Director) attended a meeting on 9th July held at the Ministry for Foreign Trade and chaired by Nicole Bricq.
There, they were able to measure the strong level of commitment on the part of the Government to help innovative SMEs increase exports. Indeed, in order to boost France's export performance, four key sectors of activity have been identifi ed. The coordinators appointed to head up these initiatives will be responsible for developing the French export offer and promoting cooperation between stakeholders and market players. Drawing on the innovation potential of French companies, as well as a global network of dedicated partners, the Ministry for Foreign Trade plans to sustainably develop France's competitive advantage on the international scene. Mr David Sourdive, co-founder and Vice President of Cellectis, the French genome engineering specialist, is one of the four coordinators appointed. As Head of the 'Treat yourself better' (Mieux se soigner) initiative, he will be responsible for developing new export opportunities in the health sector.
Finally, from 24th to 26th July, Pierre-Marie Lemer (Chairman and CEO) and Valérie Chevreul (Managing Director) accompanied Prime Minister Jean-Marc Ayrault during a visit to South Korea, as part of a delegation of business leaders. This trip further strengthened Lemer Pax's ties within this country.