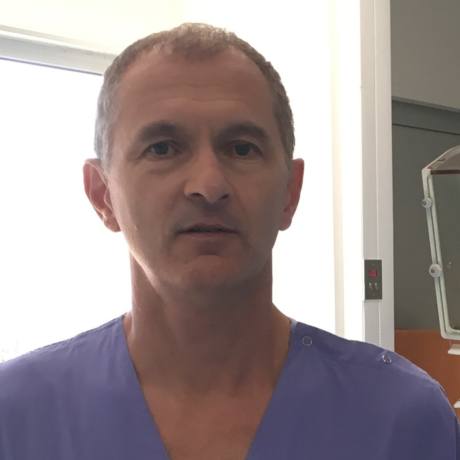 3 questions to Yann Valy, interventional cardiologist at the La Rochelle Hospital
What made you decide to take a closer look at the dangers and risks of your job?
Yann Valy: We are a leading centre for the management of acute coronary syndrome. We have been performing coronary angiograms/angioplasties for over 20 years. For personal medical reasons related to my exposure to ionising radiation, I had to take much greater precautions to limit my exposure to ionising radiation. We perform more than 3000 catheterisation procedures per year, including about 1300 angioplasties, so it is vital for us to make the precautionary principle a key component of our policy both for the patients and for ourselves.
Have radiation protection measures become totally effective?
Yann Valy: There is always room for improvement. There isn't just one solution but a more global range, which over the years has aimed for optimal protection while optimising the practitioners' movements. Some of my electrophysiologist colleagues were using a radiation protection booth, so I decided to give it a try. More and more procedures require radiation protection, so it's important to find the best radiation protection solution on the market. What with emergencies, weekly scheduled activities, simple and complex angioplasty procedures, with rotablation and intracoronary imaging, the radiation risks are increasing, and since I started using the booth, my exposure doses have dropped significantly.
Is it possible to achieve both optimum radiation protection and practitioner comfort?
Yann Valy: I think that's the essential question. It's very important for practitioners to be able to move freely and work in comfort, especially during long procedures. So it's essential to ensure the best safety conditions for the entire department. In a simple right radial angiogram, with the radiation protection booth and an average procedure and scope time, i.e. a procedure time of 10 minutes and scope time of less than 3 minutes, the radiation dose detected by the active dosimeter during the procedure is 0.03µSv. In more complex procedures requiring different angioplasty techniques, the dose is less than one µSv, which is entirely satisfactory.